New Explorations are on the Horizon!
What is a River Cruise?
Why Are They So Popular?
Each stop is an invitation to get to know new cultures by getting an opportunity to participate in land adventures ranging from active excursions, castle and museum tours, to unique onboard activities. Enjoy the art, food, and wine in regions throughout, aboard custom-designed riverboats.
While ocean cruises take you to countries, river cruises take you through them. There simply is no way to reach river cruise destinations on mega cruise ships.
 River cruisers are smaller ships that sail on rivers, not oceans.
They voyage on the inland waterways, rivers of Europe, Asia, and the Americas.
They stop at river ports: often the region's oldest and most colorful towns.
In comparison to ocean cruise ships, river cruise ships are quite small with good reason. The locks and bridges that need to be navigated determine the size of the ship. European river cruisers hold an average of 100 to 200 passengers.
River cruise itineraries are designed to include some of the most celebrated, scenic and culturally enriching places in the world including sights such as castles, vineyards, capital cities and small, quaint villages. The routes may be very short or may cover larger distances.  While there are some variations, many lines essentially cruise the same route on the most popular European rivers.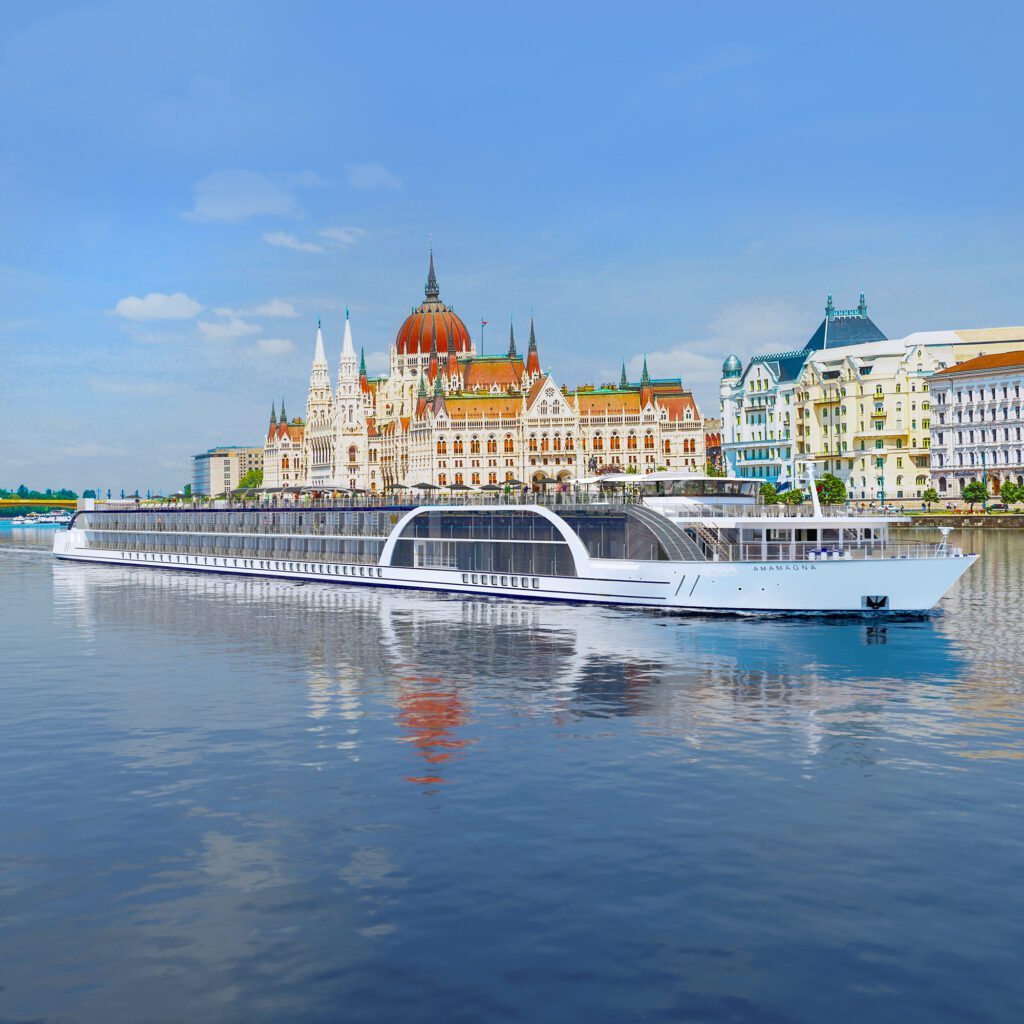 10 Reasons Why Ocean Cruisers Will Love River Cruising
1. Expand Your Options
While ocean cruises take you to countries, river cruises take you through them. There simply is no way to reach river cruise destinations on mega cruise ships.
2. Intimate Experience
River cruising offers a more intimate setting. Most ships range from 144 to 196 passengers. This means that you'll never have to wait in line, which means you'll have more time to enjoy all the amenities and have a more personal experience with other passengers and crew. From ordering a beverage to getting on and off the ship, you'll enjoy the absence of long lines.
3. Dive into the Local Culture
Get away from the touristy ports and explore hidden gems. Large ocean liner ports can receive up to 20,000 visitors on the same day but with a river cruise, you'll arrive into port with only a few hundred visitors. Not only will you avoid long lines at your destination, but you'll also enjoy leisurely excursions at each incredible port of call.  You'll be able to take in the local culture and history of every unique town that you visit.
4. No Need to Rush Back
With many departures from the destinations being later in the afternoon or evening, you'll have the chance to enjoy the nightlife in select ports of call. Whether you choose an evening walk through cobblestone streets, a local show or performance, or one last glass of wine after dinner while listening to a local musician, immersing yourself in the evening culture together with the locals is a unique experience.
5. Castle Views
That's right, castle views. From Amsterdam to Basel along the Rhine River, and in Budapest, Bratislava, Dürnstein and Passau on the Danube, you'll see colorful architecture and castles that will blow you away. But don't stop at just viewing the castles, why not hike or drive to them and then explore their fabulousness with a knowledgeable guide? You'll literally be walking in the footsteps of world history.
6. 5-Star Reviews
5-star reviews are only earned through 5-star service. When you're relaxing with a glass of wine on the Sun Deck, enjoying a night under the stars, or having an unexpected encounter with kind locals that your tour guide has arranged for you, you'll know where these 5-star reviews come from.
7. Entertainment for the Whole Family
River cruising is perfect for multi-generational families. There really is something to do for everyone on board at each destination. With a variety of activities and plenty of stops along the way, we're sure everyone in the family will have an unforgettable experience.
8. Taste the Difference
Whether you're into wine tasting or local street food, a river cruise provides an exceptional culinary experience both on the ship and at every destination. The onboard culinary team focuses on utilizing fresh local ingredients. Dishes are paired with local wines. There's absolutely no mass-produced and basic buffet food when you cruise with AmaWaterways!
9. Variety of Experience
Let's not forget just how special every European country is! The towns and cities may be close in proximity along the river, but don't be surprised by the unique feeling and experiences that each destination gives you. Choose from visiting local breweries, hiking to castles, biking through trendy neighborhoods or visiting museums that highlight the local culture.
10.  World-Class Accommodations
One of the reasons we love river cruises so much (and we know you'll agree) is the feeling of walking into a luxurious suite or twin-balcony stateroom that will be your home away from home for the next 7, 8, 10 days or more. Each of AmaWaterways staterooms is tastefully decorated.
Ocean cruises have been a popular way to vacation for decades. They're affordable, convenient and offer travelers peace of mind knowing that everything they need for a fantastic getaway is all in one place. What could be better than that? Well, next time, you might like to consider a river cruise!
River cruises combine all the comfort and convenience of an ocean cruise with the excitement of European excursions at each port of call.
Check off many of your bucket-list destinations on these amazing adventures:
European Cruises
Danube River
Rhine River
Rhone River
Seine River
Christmas Markets
South East Asia
Mekong or Ayeyarwady Rivers, Africa - Chobe River
North American River Cruises