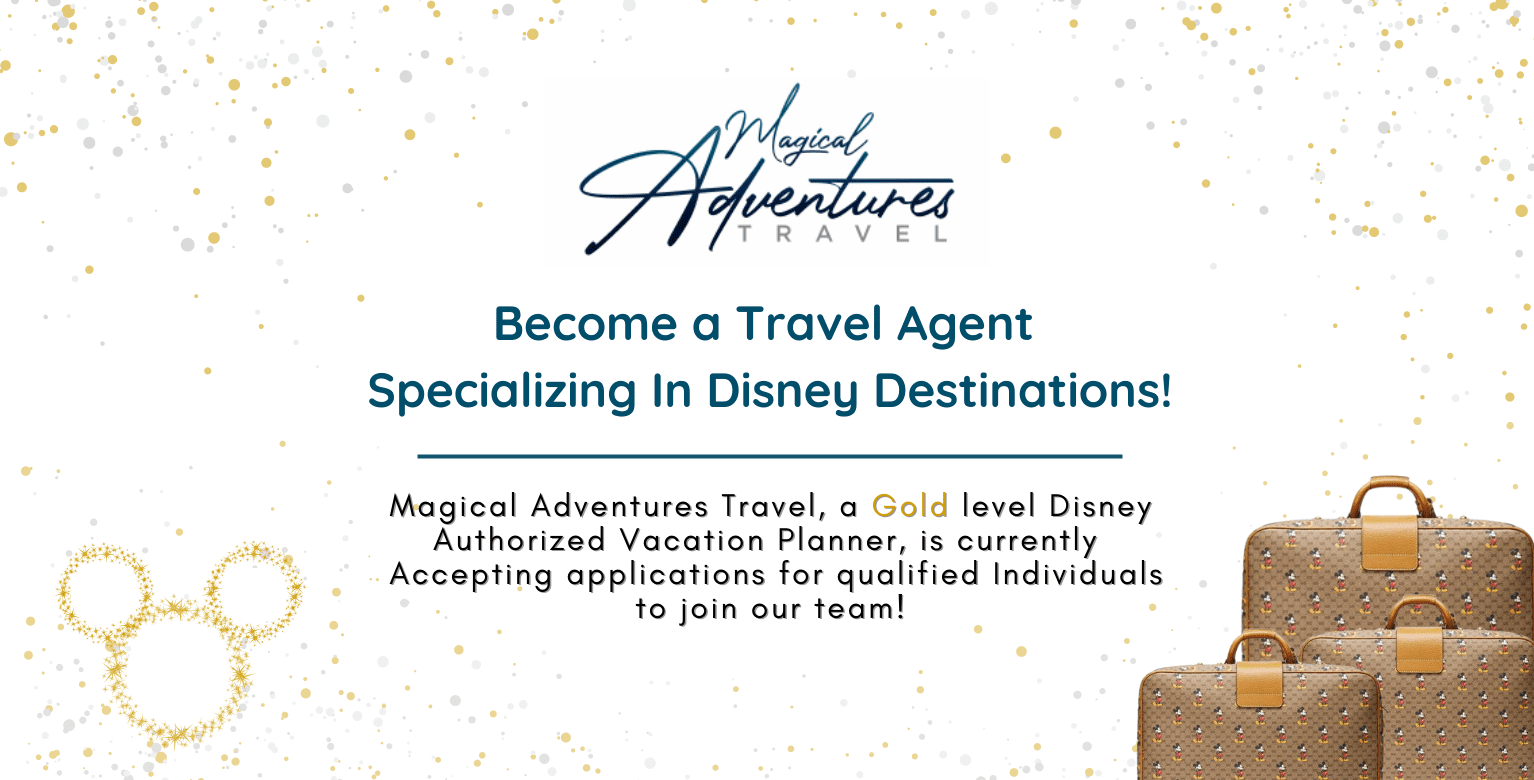 There are some things technology cannot replicate, and the personal touch is one of them. The Internet is a valuable resource, but it cannot replace the expertise, guidance and personal service of a travel agent. At a time when travelers are stressed out with hectic schedules, travel agents have all of the information at their fingertips, saving valuable hours of surfing on the Web. Agents also can offer insider tips based on personal experience.
-American Society of Travel Advisors
Become a Travel Agent with Magical Adventures Travel
More  people are turning to travel agents for their knowledge and experience in travel. If you're interested in becoming a travel agent specializing in Disney, Universal or cruise destinations, or expanding even more with All Inclusive resorts in Mexico and the Caribbean, we can help you start a travel agent career either full or part time.
Are you considered a Disney Fanatic, the local go-to person for tips and planning help?
Do you travel to a Disney destination frequently and love the magic of Disney?
Do your friends and family contact you for advice when they're  planning a Disney, Universal, or cruise vacation?
Do you have experience with cruising in the Caribbean, lounging at an All-Inclusive Resort or hanging out with Harry Potter?
 Have friends suggested that you would make an amazing Travel Agent?
If 'Yes' then you may be a great fit as a travel agent with Magical Adventures Travel! 
Scroll down for additional information about the agency and a description of  candidate qualifications.  If this sounds like you, complete the Join Our Team Questionnaire.
Magical Adventures Travel is an Authorized Disney Vacation Planner  An Earmarked Disney Agency
We will continue to build our agency with knowledgeable, enthusiastic, friendly and motivated independent travel agents who share a passion for customer service reflecting Disney standards.  New travel agents pursuing their dreams will be welcomed into a caring, nurturing environment.  We're looking for highly motivated, professional-minded entrepreneurs with integrity, creativity along with a spoonful of patience - a full cup would be be even better. An extra sprinkle of a sense of humor will also go far in travel sales.
Applicants must be serious about building a business. Whether part time or full time, we are not seeking hobbyists. Candidates should plan to devote at least 20 hours per week toward their business.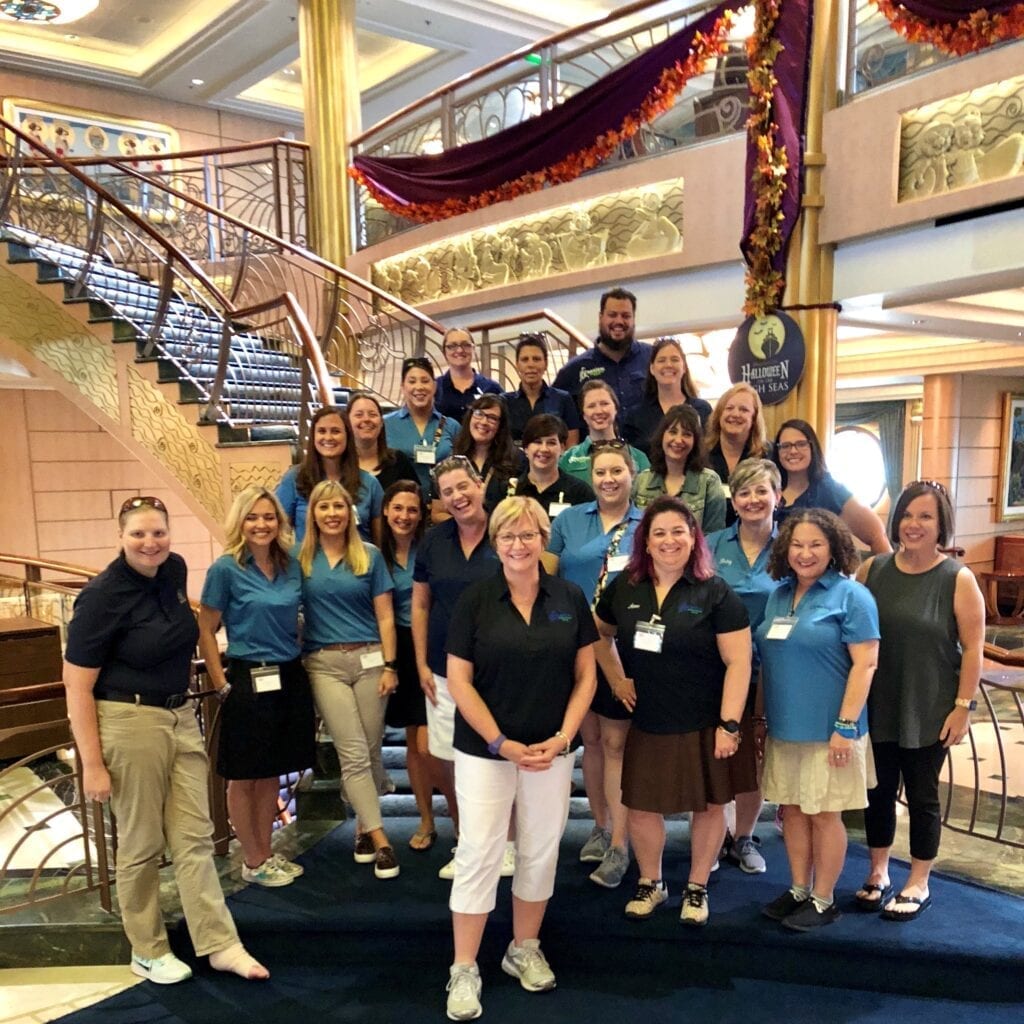 Frequently Asked Questions: Learn More!
The answer is: there is more to this job than you may realize! 
For most vacations, agents book the hotel, transportation, and give clients a basic itinerary. For a Disney or Universal vacation, agents provide advice on ticket type, resort options, transportation, restaurants, dining plans, dining reservations, FastPasses, and everything in-between. 
There are so many important details to address when you're planning a theme park vacation. And there's a lot more follow-up you need to attend to with your clients. 
The Disney Travel Planner profession will continue to be strongly needed in the future.  As the technology increases, in addition to numerous changes every year, Disney will continue to  need our expertise to plan these vacations for guests visiting the parks. Some people feel this process is daunting and complicated and don't realize the importance of planning months in advance. Or, they simply do not have the time involved to do the planning. They miss out on much of the magic the parks have to offer and return home disappointed in their experience. Disney Travel Planners are here to take care of everything so clients can enjoy their vacation!
Our work is so very important!  Travel Agents provide the knowledge, recommendations and support that many people truly need in order to have a great experience visiting a theme park.
Find a travel agency specializing in booking Disney Destinations; not all agencies are alike, so look for a good fit! You'll be selling Disney (and other destinations if you choose to) as an Independent Contractor (not an employee).  Your "Title" will be a travel agent who specializes in Disney vacations, not "A Disney Travel Agent" because you're not working for the Walt Disney Company. Disney is very protective of their brand and as an EarMarked Agency - an Authorized Disney Planner -  we have several marketing guidelines to follow.
Our agents are Independent Contractors and not employees. Working as an Independent Contractor, you  own and operate your travel business from your home office.  You choose what hours and days you work. As you create your schedule, we ask that you commit at least 20 hours to build, sustain and ultimately grow your business. Like any job, the amount of time and effort you put in will help determine how well you do. While being a private contractor seems like it would provide you with lots of freedom, actually, successful travel agents often have early mornings and/or late nights.  Be prepared to accommodate your client's schedule and not always your own. This may seem like an overwhelming process, but we're here to help you get set up successfully and get started on your new adventure! 
Travel suppliers, such as Disney, Universal, cruises, hotels, etc. all have the commission built into the cost of the room or vacation package. When booked directly, the supplier retains the commission. When an agency makes a booking, the supplier sends the agency a commission. Agents are paid a percentage of the total commission received from travel suppliers generally after the client travels.
You will not have a salary or wages to rely on. Rather, the number (and cost) of trips you book will determine your income.  Commission starts at 70% and increases 5% as you meet different sales tiers, up to 90%. You will have an opportunity to make extra vacation money or to work this job full time. It's up to the agent and the time they have to network and market plus keep current on the latest travel news.
Errors and Omissions insurance is around $80 yearly and prorated if you join mid-year. Our online client management program is $10 monthly for basic or $25 monthly for advanced. If/when you sell to a Florida resident, you'll need to purchase an individual Seller of Travel License (required by Florida) at a yearly cost of $50. If you are a Florida resident, you'll need to purchase this license when you start.
Agents purchase business cards and any equipment they need to run their business.
There are no annual fees involved to join Magical Adventures Travel.
Short answer - You need a marketing plan!
This is a job which requires time to build a client base. However, it also takes a marketing plan that involves more than depending on your family, friends and personal trips. You have to put your name out there, as you would in any self-employed industry. 
There are a variety of ways to use marketing to find clients. You can use word of mouth, social media, paid ads, wedding expos, and even blogging or vlogging. The list goes on and on!
It takes more than just being a huge Disney fan to be  successful at this job. If you know and love Disney, that's great, but more is needed and expected from an agent.  There is great responsibility involved in selling Disney destinations involving organizing client bookings, planning marketing and social media posts. You may need to step out of your comfort zone, attend local events and get your name out in your community or virtual community, but once you do, business should continue to build and soon you'll be getting referrals and meeting new clients!
It helps to have a large circle of friends and acquaintance to pitch your services to, as well as some marketing savvy to build your own brand. Since your compensation is entirely commission-based, an effective marketing strategy will be key to your success. Personal goal setting is important. Six bookings, not including family, would be a realistic and attainable personal goal for your first year. 
We specialize in Disney vacations and Disney cruises, but the world is open for you! We're registered with the major hotels, tours, theme parks and cruise lines including the following: Universal, Sandals, Royal Caribbean, Princess, Norwegian, Holland, European river Cruises, Mexican All Inclusives, Caribbean Island Adventures and the amazing Adventures by Disney guided tours both domestic and worldwide.
We do not book flights without a hotel stay, nor DVC timeshares.
You will have additional training and support through several venues. The Disney travel agent site contains their no cost  training referred to as Disney's College of Knowledge. The CoK modules are designed so that you can work at your own pace, stop and return at your convenience. The modules are both interesting and helpful, even providing you with marketing and sales strategies.  All agents will need to complete this training within 30 days, but this goal is easily attainable in a week or so. You can begin this training immediately upon signing on as an agent.
Our affiliation with Travel Leaders Network also provides a venue for a wide variety of additional, optional trainings. Each of our non-Disney travel suppliers (such as Universal) also offer on-site and online training and certifications.
Sandals offers a Certified Sandals Specialist course in various cities across the US. Agents interested in selling or specializing in Sandals are encouraged to attend one of these seminars to earn their CSS designation. Post Covid, these may be offered online.
Our cruise line partners all have e-learning courses, offered free of charge. These are important if you plan to book cruises as you will learn so much about their different ships and destinations! These courses also provide marketing tips and social media ideas.
Disney offers resort and ship tours (that are currently on hold due to Covid) as part of their on-site agent education training at both Walt Disney World and Disneyland. These dates are posted on the Disney TA site and there may be one offered during your next trip! (post Covid).
Magical Adventures Travel has participated in on-site trainings at both Walt Disney World and Universal. Participation is highly encouraged, but totally optional. We always have so much fun and learn something new each visit!
Our agents are part of the Magical Adventures Travel family and are all greatly appreciated! We provide training and support with a warm and inviting environment/community!
Candidate's Desired Qualifications: 
Why is Magical Adventures Travel the best fit for you?
Join us on a Magical Adventure – Apply Today!
Magical Adventures Travel Team!